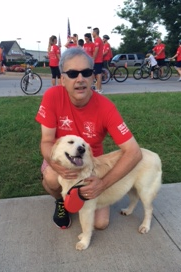 .
Nugget is doing great, we are so pleased.   He had a little bout with an upper respiratory infection.   The vet put him on antibiotics that he just finished and is fine.
.
Our neighborhood has a 4th of July walk/run/bike event.   He walked with us this year, 3 miles.  I am attaching a picture of Nugget and my husband before the walk.  Nugget was motivated to keep up with the other dogs walking and never met a stranger.  We don't think he will like the fireworks tonight so we are staying in.
.
* * * * * * *
If you would like to send us an update on your adopted
K-9 Angels Rescue dog, please send a short write-up and photo(s) to
happytails@k-9angelsrescue.org
.   We LOVE to get updates!
* * * * * * *
Do you want to send us updates & photos
but still need to choose the Love of your Life?
* * * * * * *