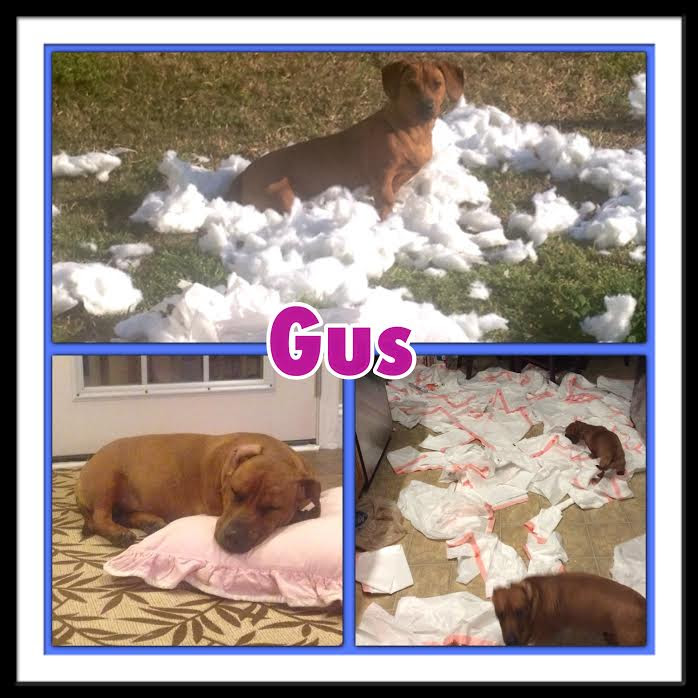 We have not even had Gus 6 months yet, but OMG it seems like forever!  I can't tell you how much we love that dog, he makes #6 – I couldn't think of a better way to complete our pack.  When we got him, he weighed 4 pounds, now he weighs 35 pounds!  He is a big bundle of love, all he wants to do is be loved on, kissed on and held.  He is so proud, he learned how to use our doggie stairs to get on and off the bed.  For the first few days, he would go up and come right back down over and over. =)
He is doing really well, if we can survive his puppy stage we should be ok  =0.
We are on dog bed #4 (attached is a picture of bed #3 and what happens to them), had the walls/doors repaired and painted, and are working with him more on what he can and can't have.
I think of him as the class clown, he always like to be in the middle of the action – mostly causing "the action".  A few days ago I came home to find all of the garbage bags out and spread over the floor (it was a new box of about 250).  He was just sitting in the middle when I walked in, looking around like "what, haven't you ever seen this before?!"  As I tried to pick them up, he would run through them and slide – he even slid into the cabinets a few times!!
At the end of the day, he is just a big baby.  He sleeps with his pillow, somebody didn't tell him it was pink, and just wants his lovin'.  We are still not sure what he is "supposed" to be, but he is not just a doxie that is for sure.  Some days I think he is part boxer or lab or pit bull, but no matter what he is, he is special to us.  Hope you enjoy the pictures!!  Thanks again for bringing Gus to us!
*| * |*
* * * * * * *
If you would like to send us an update on your adopted
K-9 Angels Rescue dog, please send a short write-up and photo(s) to
happytails@k-9angelsrescue.org
.   We LOVE to get updates!
* * * * * * *
Do you want to send us updates & photos
but still need to choose the Love of your Life?
* * * * * * *